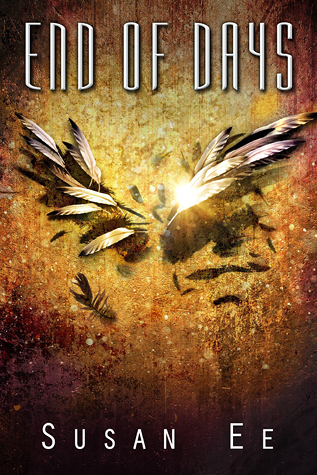 ~o~Rating~o~

End of Days
is the third and last book to the
Penryn and the End of Days
trilogy. A satisfying ending for an awesome series!
End of Days
is everything I was hoping for and more. It's action packed, full of humor, some very memorable scenes and of-course Raffryn (is that how you spell it?). Not much to say without spoiling but read this series! Susan Ee brings a whole new twist to angels and it's mind blowing! Not a very thorough review, but it was so good! Go read it NOW!
~o~SPOILER ALERT~o~

I loved all the different aspects of the book. I liked that Susan Ee explained Beliel's back-story. The whole concept of going through a sword to Hell and bringing back the Watchers was something I never would have predicted.
I also really liked that Paige and their mom played a big part in the book. Honestly, her psycho mom had become one of my favorite characters. I mean, scaring the hellions with rotten eggs? That's as cool as moms get. And every time I try to picture Paige, I start to hate Doc more and more. I don't care what good thing he did, he literally tore that little girl apart and sewed her back together. Why isn't he dead again?
The ending scene with the fight was great; especially picturing the Watchers fighting side by side with the humans. *tears* That was beautiful.
I of-course loved the Raffryn ending! Their conversations always make me laugh, they're hilarious! Poor Raffe though, after working so hard to get his wings back. Hopefully Pooky Bear will accept him soon.